Parya Lotfi

Parya Lotfi is the co-founder & CEO of DuckDuckGoose, a trailblazing tech company specializing in explainable AI solutions that uncover deepfake technologies and prevent identity fraud. Equipped with a rich background in systems engineering and policy analysis, she brings an indispensable interdisciplinary perspective to tackling some of today's most complex and pressing issues – particularly the security risks associated with deepfakes. Her passion lies in the formulation of actionable roadmaps aimed at securing digital identities and maintaining the integrity of online spaces.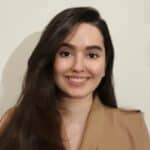 Julia Janssen
Julia Janssen is an artist, designer, researcher and speaker. In her work she creates awareness about the impact of technology and digitization on society.
In 2016 she graduated from the ArtEZ School of the Arts in Graphic Design. During her studies, she became interested in data and digitization and worked on several projects that highlight our relationship with technology. With her graduation work, she won the ​​Crypto Design Award and she has since devoted her art to data sovereignty.
Julia translates scientific insights into accessible design giving her audience a peek behind the internet's surface. By making the complexity of information technology understandable, she builds a movement that strives for data sovereignty. Ultimately, everyone must consciously choose who knows what about him or her on the internet. This philosophy is reflected in several projects: she develops and designs projects about the lack of ownership, control, and transparency over personal data, the capital in online behavioral patterns, the changing definition of privacy, and the future of digital identity.
Nupur Kohli

Drs. Nupur Kohli is a Healthcare Leader, Medical Doctor, Author, innovative Speaker, Supervisory Board member of UNICEF the Netherlands and member International Advisory of the Amsterdam Economic Board, The Netherlands. A former healthcare strategy Advisor at EY, she is currently medical advisor with the largest healthcare insurance company in the Netherlands.  She is the curator (president) of Global Shapers, World Economic Forum, in Amsterdam 20-21 and a team member of the World Economic Forum Chatbots RESET project and Generation AI project.  She is former member of two advisory bodies to the Dutch government on healthcare policy.  
With more than 100 speeches worldwide and 5 TEDx talks, she earned a reputation of a prominent female speaker internationally and is author of the book Chill!, on stress and productivity.